MOTO-X-RACER
Race across the terrain in this awesome physics based motocross game. Perform jumps, wheelies, back flips, front flips, and stoppies as you race towards the finish line to get the fastest time.
more info &raquo
NINJA PIG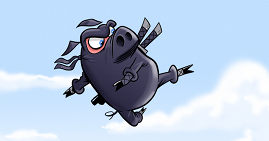 Tired of seeing poor defenseless pigs being used as cannon fodder by pesky birds. Well fear no more. Ninja Pig is coming soon to straighten the score.
more info &raquo
JETPACK SOMETHING - COMING SOON
See how far you can travel with a jetpack strapped to your back. Great rag doll action with simple one touch controls and a variety of different characters to unlock.
more info &raquo